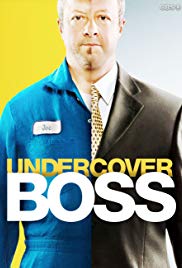 Undercover Boss
Reality-TV
Bosses of chain businesses go undercover to their own stores in various locations and various jobs around the store and interact with the employees. Depending on the employee's impression, it will prove to the boss how important the job is to them.
Season 01 Episode 05 — TGI Fridays
Ray Blanchette, chief executive officer, TGI Fridays, who started at the company as a manager in training on Oct. 2, 1989, finds out if he can still stand the heat in the kitchen and behind the bar, as he attempts to cook up extra business at a couple of locations.
Undercover Boss US S10E05 WEB H264-RBB
Undercover Boss US S10E05 720p HDTV x264-TOPKEK