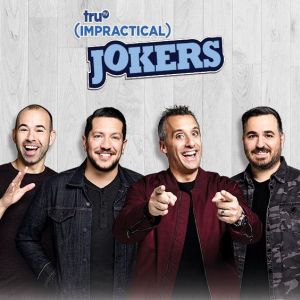 Impractical Jokers
Comedy, Reality-TV
Q, Sal, Joe and Murr are real-life best friends who love challenging each other to the most outrageous dares and stunts ever caught on hidden camera.
Season 01 Episode 09 — Dinner Party Show 9
Happy Halloween! The Jokers are all dressed up with nowhere to go. This week, Murr, Q, Sal and Joe are having a Halloween-themed dinner party and they're surprising each other with elaborate costumes.
Impractical Jokers Dinner Party S01E09 480p x264-mSD
Impractical Jokers Dinner Party S01E09 720p WEB h264-BAE