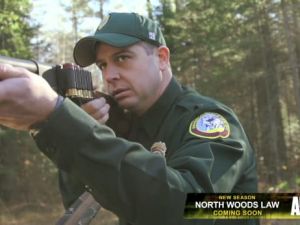 North Woods Law
Reality-TV
Danger and drama are around every bend for Maine's elite game wardens, who are followed in this series as they navigate the state's rugged terrain during a busy and risk-filled hunting season.
Season 15 Episode 05 — Moose in the City
A team is deployed to relocate a moose trapped in downtown Nashua. During an undercover mission, Officer Egan encounters multiple bird hunters, while Officer Canfield rushes to rescue an injured hiker and his young family on Mount Carrigan.
North Woods Law S15E05 Moose in the City ANPL WEB-DL AAC2 0 x264-BOOP
North Woods Law S15E05 Moose in the City 720p ANPL WEB-DL AAC2 0 x264-BOOP