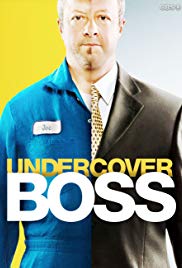 Undercover Boss
Reality-TV
Bosses of chain businesses go undercover to their own stores in various locations and various jobs around the store and interact with the employees. Depending on the employee's impression, it will prove to the boss how important the job is to them.
Season 01 Episode 06 — Bowlero
Colie Edison, CCO of Bowlero Corp and CEO of the Professional Bowlers Association, works undercover to spare customers from waiting too long when checking them in to bowl, and tries for a perfect game while taking food orders as a lane server.
Undercover Boss US S10E06 480p x264-mSD
Undercover Boss US S10E06 720p WEB h264-BAE